Hyped with the launch of Proton X50? At a price tag starting from RM79,200, you'll get a bunch of awesome features that most other cars in its price range don't.
But don't forget that the Proton X50 will have higher maintenance cost compared to older Proton car models which are generally cheaper.
You're probably wondering:
How much does the Proton X50 car battery cost? Where can I get a car battery replacement for my Proton X50?
As the car battery expert, we will share with you the cost Proton X50 car battery and its recommended battery size.
What's the car battery size for Proton X50?
The Proton X50 is factory fitted with the DIN60L car battery.
Aftermarket, you can opt for these alternative car battery sizes:
DIN55 – lower specification
DIN62 – higher specification
What's the bottom line?
We always recommend a car battery replacement that is equivalent or an upgrade to the factory specification car battery.
Any car battery that is a downgrade will have unwanted complications to the car's electronic system.
How much does the Proton X50 Car Battery Cost?
Now that you know the recommend car battery size, you'll want to know the price.
At Carput, you can get the DIN62 car battery at this price: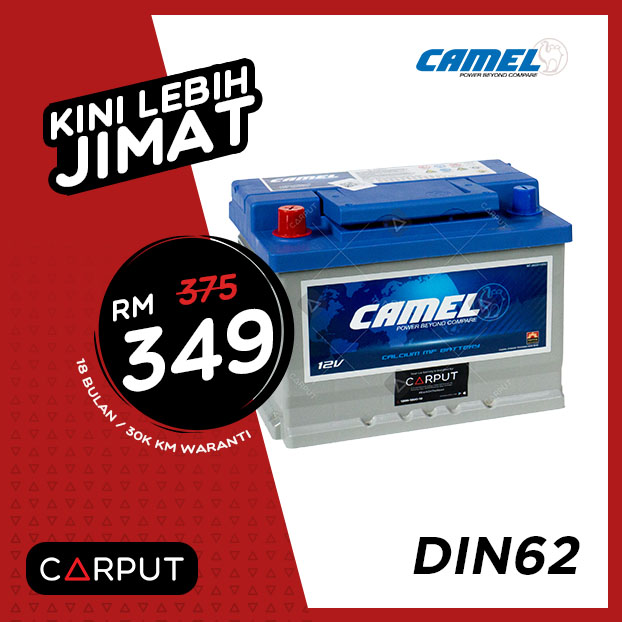 Want to know the best part?
The Camel car battery brand is actually the original brand fitted to the Proton X50 in the factory. This is because they are the supplier to Proton!
Of course, when you purchase a car battery from Carput, we will deliver and install for free. You'll only pay for the cost of the car battery!
Will My Proton X50 Warranty Void If I Replace The Car Battery Outside Of The Service Centre?
The short answer is no.
Like your tyres, car battery is categorised under 'wear & tear' and as long as you replace to a recommended car battery specification, your car's warranty should not be affected.